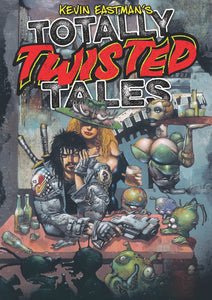 Kevin Eastman's Totally Twisted Tales is 96 pages of dark and twisted depravity from the clinically insane minds of Kevin Eastman and Simon Bisley! The novella features three full length stories featuring guys, girls, monsters, mutants, superheroes, slackers and lowlifes – as well as one VERY fast rat! 

What is a graphic novella?
A graphic novella is an upgrade to the traditional trade paperback at an inviting price point.