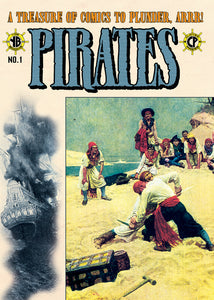 *EXCLUSIVE HOWARD PYLE CLOVER WEBSITE COVER*
Yoe-Ho-Ho! The same scurvy dogs who brought you Haunted Horror now share this booty: "Pirates"! Swashbuckling artists the likes of Frank Frazetta, Reed Crandall, Graham Ingels, Dick Briefer, etc. give ya complete comics stories to plunder, arrr!  Plus feast on art by bilge rats Wally Wood, Bernard Krigstein, Carl Burgos, Howard Pyle, and, yarrr, more! Avast ye, prepare to take you a prize--savvy, matey? 
More on this exclusive variant cover from Craig Yoe
This very special variant cover has a tremendous story behind it! 
Reed Crandall made an homage to The Father of American Illustration, Howard Pyle, when he drew a "Piracy" comic book cover for EC. We now make an homage to EC in our variant cover design and we use Pyle's famous Pirate painting "Who Shall Be Captain?" that inspired Crandall to do it! Also note  the painting on the left side of the cover is a Pyle painting that some historians cite as a reference for a later Frazetta painting!  
Pyle! Crandall! Frazetta! EC Homage ! You'll feel like a pirate rich with booty, matey, when you add this sparkling variant cover treasure to your booty! Avast now, ARRR!
What is a graphic novella?
A graphic novella is an upgrade to the traditional trade paperback at an inviting price point.