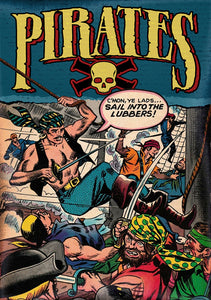 OFFICIAL RETAIL COVER

Yoe-Ho-Ho! The same scurvy dogs who brought you Haunted Horror now share this booty: "Pirates"! Swashbuckling artists the likes of Frank Frazetta, Reed Crandall, Graham Ingels, Dick Briefer, etc. give ya complete comics stories to plunder, arrr!  Plus feast on art by bilge rats Wally Wood, Bernard Krigstein, Carl Burgos, Howard Pyle, and, yarrr, more! Avast ye, prepare to take you a prize--savvy, matey? 
What is a graphic novella?
A graphic novella is an upgrade to the traditional trade paperback at an inviting price point.