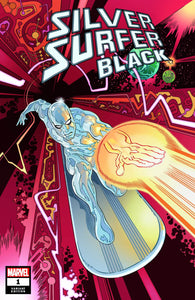 SHIPPING NOW
This exclusive variant for the brand-new series, Silver Surfer Black, features cover art from the Eisner Award Winning artist and co-creator of Locke & Key, Gabriel Rodríguez. Rodríguez took his inspiration from Silver Surfer's creator, the legendary Jack Kirby when creating this piece.
This is the debut exclusive variant cover from Clover Press.
Limited copies available. 
Silver Surfer Black #1 is a 5-part series from superstars Donny Cates (VENOM, GUARDIANS OF THE GALAXY) and Tradd Moore (ALL-NEW GHOST RIDER, VENOM)!
For bulk purchase, please contact Nate@cloverpress.us