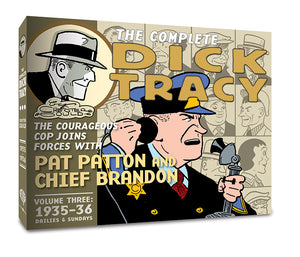 NOW SHIPPING!

Lawless days like the mid-1930s needed the toughest policemen to dispense justice—men like Dick Tracy! In Volume 3 of his long-running series, the bold detective tangles with Zora Arson, her escaped-con brother, Boris, and the evil "Cutie"—who gets cute by springing a death trap involving two famished bobcats! Clover Press and The Library of American Comics are re-presenting Chester Gould's earliest Dick Tracy stories in the larger format used throughout most books in the series, so Tracy's battles against gangsters look bigger and better than ever. The action hits closer to home when the Tracy family's acquaintance, Toby Townley, learns that justice is blind after the small grift she runs makes her realize that prison stripes are the new black. Then Dick Tracy tries an experiment in reform, transforming hardened criminal "Lips" Manlis into straight-arrow Bob Honor – but is it true there's no Honor among thieves? This new edition of Dick Tracy Volume 3 puts Chester Gould's great stories into a great package!
NOW - ORDER ONE OF ANY DICK TRACY EDITION AND SAVE 20% ON ANY SECOND EDITION.
DISCOUNT TAKEN AT CHECKOUT.
Hardcover
256 pages
B & W
11" x 8.5"