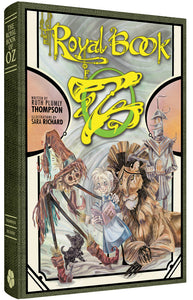 The Royal Book Of Oz is the 15th book in the Oz series. It is also the first book in the series written by Ruth Plumly Thompson.
Released in 1921, the book was originally credited as the last to be written by series creator, L. Frank Baum. Baum died in 1919, but the manuscript for Royal Book of Oz was said to have been completed before then.
It wasn't until years later that the truth behind this book's origins were revealed.
Clover Press aims to celebrate the work of this forgotten female author with a brand new edition of The Royal Book of Oz featuring updated, all-new illustrations by Eisner Award nominated artist, Sara Richard. This edition also features an afterword by Eisner Award winning artist and writer, Eric Shanower.